Discover more from Willoughby Hills
Musings on our ever evolving relationships to work, home, community, culture, food, the environment, and more.
Wednesday Walk: Surprise!
Welcome to the Quarantine Creatives newsletter, a companion to my podcast of the same name, which explores creativity, art, and big ideas as we continue to live through this pandemic.
Every Wednesday, I share random thoughts and tidbits with links to let you do some exploring, which I hope generate interesting ideas. I call these Wednesday Walks, as it's the type of conversation we might have walking down a path in the woods- the topics are free flowing, sometimes related, sometimes not.
If you like what you're reading, you can subscribe for free to have this newsletter delivered to your inbox:
---
Kansas Surprise
If you're just waking up, there's some surprising news coming out of the Kansas primary election last night. On the ballot was the opportunity to remove abortion protections from the state constitution, allowing the governance of abortion law to fall to the state legislature. That referendum was soundly defeated last night, with record turnout for a primary election.
Kansas has been a reliably red state for decades now. The popular political book What's the Matter with Kansas? in 2005 explored this, with author Thomas Frank showing how the GOP's messaging is aimed at the working class, yet its policies only benefit those at the top of the economic ladder. I read this book years ago and its thesis has stuck with me for a long time.
I'm not surprised to see citizens of Kansas defending their rights, even if it seems to go against their usual voting patterns. As I wrote about my trip to West Virginia, places are not always the caricatures seen in the national media and real people are more complicated than political talking points.
It's worth noting that it was primary day in many other states yesterday and the results were hardly a repudiation of conservative politics across the board. Trump-backed politicians that deny the results of the 2020 election will advance to the general election this fall in several races, in some cases beating out Republicans that voted to impeach the former president.
Still, Kaitlin Byrd had another great piece in DAME Magazine yesterday looking at how fragile the GOP voter base is in this moment and how close the Democrats may be to dominating politics for a generation. She cites historical precedent, with Republicans being the main ruling party for 70+ years after the Civil War as Democrats supported sedition. She argues that we may be in for another period like this, with Democratic policies supported by large parts of the electorate.
It's hard to know exactly what is coming, but it sure seems like we may be at a tipping point. I've written before about how pushing too hard can lead to defeat, and it seems like that may be what happened in Kansas.
---
Working from Wherever
This week, I'm on a working vacation, spending some time with my family in Florida. We drove down in the RV over the weekend and I have been logged on all week, with only the background of my Zoom screen shifting slightly from my home office.
My wife and kids have had some resort and pool time, and I get to hang with them after dinner. I am taking two days off to visit the theme parks with them, but otherwise, it's a normal work week for me- just 1,000 miles further south.
While technology may have allowed this to work for several years, the stigma associated with "working from home" prior to the pandemic would've made an arrangement like this challenging.
It may seem strange, but this is work-life balance to me, and it's something I've truly come to treasure as an outgrowth of the pandemic.
---
Bridges
As I was driving down I-95 all weekend, I crossed a lot of bridges. Sometimes, there would be more than one bridge crossing a river or stream.
When that happened, I would look over at the bridge next to me and see a beautiful structure underneath. Then I would see the striped asphalt on my bridge and think "they don't build them like they used to," not realizing that I had no idea what the bridge I was on looked like from below.
My bridge might also be beautiful underneath, but how would I know? I was so focused on the one feature in front of me (striped asphalt) that I couldn't imagine how other people were seeing the bridge I was crossing.
Our personalities and concept of ourselves can be like those bridges. We all have parts that seem mundane or even dull to us. There are parts of us that are really amazing and beautiful, even if they are hidden or we choose to overlook them. We may only see the boring parts, yet when others look at us, they may only see and appreciate the beautiful parts.
I hope you take some time to think about what's under your surface this week and imagine how the motorists on roads near you may be seeing your strengths!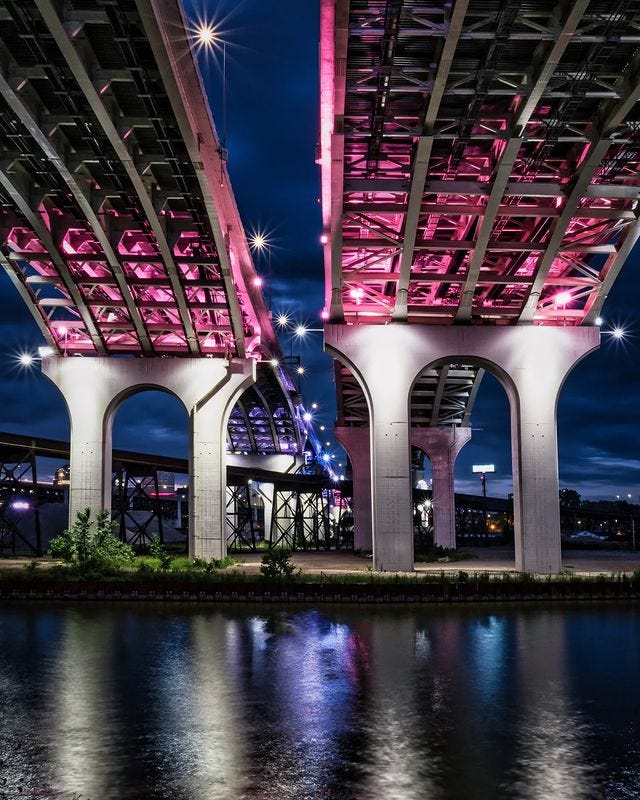 (And by the way, this photo was taken by my very talented cousin Matt Sexton, who photographs our shared hometown of Cleveland and posts them on his Instagram. Go and give him a follow, will you?)
---
Thanks for reading Quarantine Creatives Newsletter! Subscribe for free to receive new posts and support my work.
---
Other Wednesday Walks
---
If you'd like to catch up on past episodes of the Quarantine Creatives podcast, they can be found on Apple Podcasts, Spotify, or wherever you listen.
Please consider sharing this with a friend that you think might enjoy it, or better yet, share it on social media so you can tell hundreds of friends!
If you've missed past issues of this newsletter, they are available to read here.
Stay Safe!
Heath
Thanks for reading Quarantine Creatives Newsletter! Subscribe for free to receive new posts and support my work.