Welcome to 2023 and Happy New Year!
Since New Years is a time of fresh starts, I wanted to share an important announcement. Beginning today, this newsletter will be rebranding from Quarantine Creatives to Willoughby Hills.
I have a lot of exciting ideas for this coming year and I look forward to hearing your thoughts too. Here's some more details on why I'm changing the name and what Willoughby Hills means to me.
---
This newsletter originally launched in 2020 when I was making two episodes per week of my podcast Quarantine Creatives as a bare-bones operation in my attic. Both the podcast and newsletter's primary focus in the beginning were how the entertainment and media industries were adapting to the pandemic.
I was fortunate to have an amazing roster of guests on the podcast and the newsletter was a place to share the insights I was learning in each interview with people who may not have two hours per week for listening to the show.
---
After almost two years of chronicling the changes that people were making because of the pandemic, I had a very different perspective on life. That time forced us to pivot, question, and relearn so much about our world and I was hearing first-hand accounts of the changes afoot.
When our massive industrial food system broke during the pandemic, we learned how to bake bread at home and eat more creatively. When it wasn't safe to gather in public, we discovered that for many jobs, commuting to an office wasn't necessary and was wasteful. We consumed less and had to force community in new and thoughtful ways that didn't revolve around commerce.
I spent much of 2020 out of work and took on a new role as homeschool teacher to my second grade daughter. I taught her reading, history, handwriting, music, art, and much more. We spent a lot of time outside hiking and tackled many practical projects like growing mushrooms and making maple syrup.
By early 2022, I was becoming discouraged seeing so much of the world returning to "normal," leaving the spirit of introspection, ingenuity, and humanity that had defined the quarantine times in the rearview mirror.
It was against this backdrop that I launched the current version of this newsletter about 11 months ago. I wanted to ponder whether we were moving in the right direction as a society, although it was a bit intimidating writing from my own perspective rather than having the focus on my guests.
As I've developed my voice as a writer, I found that certain themes began to bubble to the surface more often: our definition of community, our relationship to the natural and built environments, the role of nostalgia, our health, our planet's health, and the origins of our food. These have been the hallmark topics of the last year of this newsletter, even though they weren't necessarily the stated goal at the outset.
The readership of this newsletter has nearly quadrupled since I began writing in this more personal style, and I have been humbled with how receptive you all have been to this new direction.
While the pandemic is still the backdrop to so much of my writing, it's no longer the main focus. Even though COVID is still raging, the quarantine is definitely past. I wanted to find a different name for this newsletter that better conveys what I'm writing and that provides some room for growth.
---
Introducing "Willoughby Hills"
Beginning today, I am rebranding the newsletter to Willoughby Hills. I hope this new title will be a bit more expansive and inclusive of writing that stretches beyond the pandemic, entertainment, and media. In Willoughby Hills, I will be continuing to explore topics like history, culture, work, urbanism, transportation, travel, agriculture, self-sufficiency, and more.
So why Willoughby Hills?
Longtime readers may remember that my hometown is Willoughby, Ohio, located east of Cleveland. It was once connected to Downtown Cleveland by streetcar, it has a walkable and charming downtown, and I grew up in a dense neighborhood of 1920s houses where I could easily walk or bike to most of what I needed.
Willoughby Hills is the city adjacent to Willoughby, although its character is very different. It is mostly rural, with winding, hilly roads that cut through the woods.
Willoughby Hills is its own place, but it also is kind of a part of Willoughby. It has its own government, fire department, and police force, but residents of Willoughby Hills attend Willoughby schools. Willoughby Hills also shares a zip code with Willoughby and its mail is routed through our post office.
That duality of both being a part of something bigger but also being independent is where I see myself at this moment. I see the value in community and I am dependent on many of our international systems for my livelihood and existence. (I am writing this on an Apple laptop, connected to the internet through a national ISP, and publishing on Substack). I was also raised in the 1980s and 1990s and can get nostalgic for mass-marketed pop culture silliness like Toys R Us and Pizza Hut.
But I am also pretty against the grain and countercultural when it comes to the types of businesses I support, the types of food I eat, or the clothes I buy or don't buy. I prefer to bake my own bread and build my own furniture.
The hills of Willoughby Hills evoke charts showing the rising and falling COVID case numbers or the value of the stock market over the last almost three years. There's a lot of ups, downs, and unpredictability.
The roads of Willoughby Hills wind and curve, revealing unexpected surprises at every turn.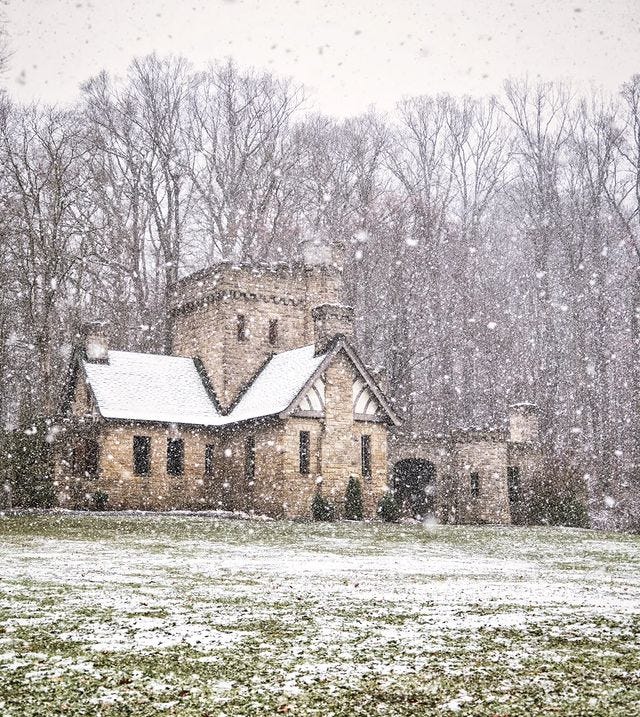 There is a stone castle known as Squire's Castle right in the middle of Willoughby Hills. It's the ruins of a manor home built by an executive from Standard Oil in the late 1800s. Today, both the castle and the woods behind it are part of a larger park and are a curiosity that invite exploration.
I didn't learn until fairly recently that hidden in the woods of Willoughby Hills is a house designed by Frank Lloyd Wright. I grew up less than a mile from this architectural gem, yet I only learned about it as an adult, long after I had moved away.
Willoughby Hills is where we would go to spend time in nature. My grandpa taught me his craft of photography on the shores of a pond there, my parents took us on hikes in the woods, and my dad took us sledding down one of the hills every winter.
The city of Willoughby Hills is about exploration, discovery, nature, and history, themes which I hope will inform this new iteration of the newsletter.
Willoughby Hills is a real place, but it's also a memory, an idea, and a dream for me, after having lived away from it for two decades.
I hope Willoughby Hills will invite you to explore the world around you, discover what may be hiding in plain sight, and cherish the everyday.
---
As I begin the new year with a fresh identity, I'd love to hear from you about what you enjoy about reading this newsletter, what you don't love as much, and what you'd like to hear more or less about. Please drop a comment below or email me!
---
Thanks for reading Willoughby Hills! Subscribe for free to receive new posts and support my work.
---
Related Reading
A Cleveland Dead Mall Christmas
---
If you've missed past issues of this newsletter, they are available to read here.
Stay Safe!
Heath